This is a narrative that covers the history of the family of Edward John Tresize and their immigration to America from England. It was originally posted on http://www.usgw.org/co/lake/trezise.htm but is not avail. May have been posted by his children.
My father, Edward, and Johnny dug a hole they called the "little Johnny" but no gold was found. They sunk another one nearby and called it the "Big Johnny Mine." They found silver but no gold. The same can be said of other miners in the area. No gold was found. The only gold that was found was in H. A. W. Taybor's mine, the Matchless Mine. He would invite famous people to Leadville because he was a senator. He would feed them a big banquet then take them into the mine and show them gold nuggets laying around. He was trying to get them to invest in his mine. One day, he had a group of investors in the mind and they were about to sign papers to buy the mine when a man came running up and said, "Looky, looky," his eyes were bulging out and he was excited. He had a gold nugget in his hand the size of a walnut. The men asked him where he found it and he replied,"right over there, and it wasn't there yesterday!" Tabor looked startled as the men turned and walked away and did not sign the papers. Tabor gave the man a hard kick in the backside and fired him on the spot.
Tabor's first wife did not like all of his crooked ways and divorced him. My stepmother, Helen, knew Baby Doe McCourt back in Glen Burnie, Maryland. They were girl friends at that time. They moved west together and lived in Davenport, Iowa. Helen married Macon while she lived there. They later followed the gold seekers to Colorado. First, they moved to Central City, then Breckenridge, and finally to Leadville where Macon went into the grocery business. My oldest sister, Polly, married a widower, Fred Wahl. He had a small son, Johnny. Polly and Fred opened a bakery business a few blocks away from Macon and his grocery store. When gold became the money standard in place of silver and the big bust came, they all went broke, along with everyone else. Horace Tabor married the good looking blonde McCourt woman.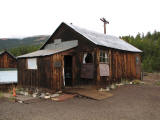 Photo of Baby Doe's Home by Mo & Terry Smedley

http://tsmedley.net/images/colorado/colo8-25.jpg